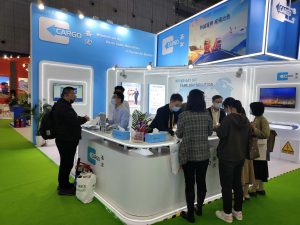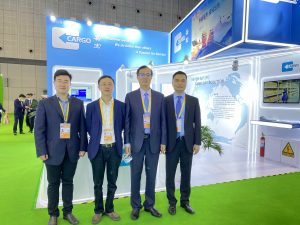 The fourth China International Import Expo (CIIE) was held at the National Exhibition and Convention Centre of Shanghai from November 5 to 10. This also marked the second year that Cargo Services Far East participated in the Expo with our own booth to promote our trading brands, innovative logistics solutions as well as our new products such as PJFWine, a new and premium online wine selling platform, and eCargo services to the participants from around the world.
This year's CIIE attracted over 3,000 participating companies from 127 countries, 30% more than last year. Our booth received exceptional attention and traffic, keeping our 20+ colleagues busier than they would have imagined. Over the 6-day period, more than 620 visitors stopped by our booth including senior leaders from local governments, shipping lines, airlines as well as Shanghai Railway. We have exchanged business contacts with over 970 exhibitors in the Expo in which 189 of them are from the core markets that we serve. The relevant information will be passed to our overseas subsidiaries and business partners to follow up with these participants upon their return to home countries. Most importantly, we have already established immediate follow-up communications with 47 prospective customers to explore business partnership at a more detail level.
On November 7, the General Administration of Customs of PRC announced the total China Import and Export values have gone up by 22.2% and 22.5% YTD respectively compared to 2020. This is in line with our Group Managing Director Mr. John Lau's strategy that CSFE's business will be shifting from heavily Export-driven to both Export- and Import-driven.
Despite the fact that the COVID pandemic has caused big supply chain impact and uncertainty to the global trade, the Cargo Services Group believe we can turn challenges into opportunities. CIIE 2021 has provided a wonderful platform for CSFE and our subsidiaries to showcase our innovative and often tailor-made logistics solutions leveraging our core strength in sea/air carrier relationships, rail partnerships, customer services, VAS and fast-expanding warehousing and distribution capabilities. We are confident and convinced that our strategic adaptions to the volatile market conditions will win over many more customers for years to come!
嘉宏参加第四届中国国际进口博览会
CARGO嘉宏海运中国部、上海公司和青岛公司、空运上海公司的20名员工参加了2021年11月5-10日在上海召开的第四届中国国际进口博览会,这是嘉宏连续4届参会。本届进博会共有来自127个国家和地区的近3000家参展商亮相,境外中小企业组团参展数量较去年增加30%。在此展会上,相关政府领导、合作船公司 (COSCO 总部、上海和宁波公司)、中欧班列铁路平台公司("上海"号中欧班列平台公司董事长王锦秋),还有部分媒体友人(《中国船务周刊》社社长倪伟、文汇报记者),莅临CARGO嘉宏展位,交流物流行业发展前景。
在这次展会中,嘉宏展示了集团最新的旗下品牌、业务版块、全球网络和综合物流解决方案。累计接待总人次超过620名,分发集团宣传册、传单约1100份,并与其他近970个参展商、客户交流并交换名片,与189家CARGO嘉宏核心海外市场的参展商进行了直接的交流。许多参展单位对CARGO嘉宏的服务有着强烈的兴趣,有47名客户和同行表示与CARGO嘉宏在物流业务上开展合作的潜在意向。还有许多客户与CARGO嘉宏的展位员工进行了深入交谈,谋求互惠合作。
中国海关总署于进博会期间(11月7日)公布今年前10个月,外贸进出口总值同比增长22.2%,其中出口17.49万亿元,同比增长22.5%;进口14.18万亿元,同比增长21.8%,继续保持平稳增长势头。不仅如此,基于中国经济发展的强劲势头、不断壮大的中产阶级和购买力,预计进口增长的趋势还将持续。这一趋势也与嘉宏集团董事长刘石佑先生的指示完全一致:"CARGO嘉宏未来30年的业务重心会不断的向进口业务转移,逐步从以出口业务为主转变为进口出口并重。"
当前,席卷全球的新冠疫情和港口拥堵问题,对供应链产生了前所未有的影响,增加了航运市场的不确定性,同时也为嘉宏提供了难得的开拓市场的机遇。本次展会有很多客户莅临嘉宏展台,关注和询问全球供应链解决方案,这对嘉宏,这个具有提供综合物流供应链解决方案能力的集团来讲,带来了更多的机会。比如有客户需要在美国和中国寻找仓库资源,同时也有红酒和食品进口的物流方案需求。后续嘉宏也将根据客户需求,不断提升自身的服务能力,一方面会继续夯实并强化船公司、航空公司以及铁路公司的合作;另一方面协同国内外网络,继续提升当地仓储、配送等增值服务。同时也会给客户提供更多结合当下市场形式下最合适的选择,以满足客户对物流方案多样化的需求。