On September 28 2021 the launching ceremony of the "China Europe Express Shanghai" was held at Shanghai Minhang Station The Deputy Mayors of Shanghai and other municipal party leaders attended the ceremony As an important strategic partner of Orient Silk Road International Transport Service Inc ..(a subsidiary of Shanghai Railway), Zhao Wei, the General Manager of Cargo Services China Corporation, and Walter Wang, Assistant General Manager attended this event, witnessing the monumental moment of the maiden journey of Shanghai China Europe Railway.

During the ceremony, the municipal party committee leaders fully affirmed that the opening of the China Europe train in Shanghai would play as a bridgehead in the construction of "the Silk Road Economic Belt and the 21 st Century Maritime Silk Road" The "Express Shanghai" will further promote the development of high end business logistics and regional industrial supply chain.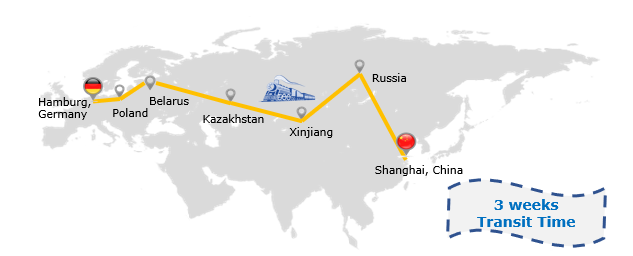 On this first "Express Shanghai" train, Cargo Services organized 9 containers out of the total of 50 containers loaded, accounting for 18 of the cargo onboard After more than a month of intensive preparation, all the goods successfully passed the rigorous audit and inspection by Shanghai Customs and were carried onboard this "Express Shanghai" to Hamburg, Germany The train will pass by Kazakhstan, Russia, Belarus and Poland over the coming 3 weeks.
Because of the good cargo support we had given to this inaugural service, Cargo Services were prominently recognized by The Railway Corporation We are pleased that with the support of the Shanghai Railway Corporation, we will have 15 containers to be loaded on the 2nd train service on October 18 i e 30 of the loading capacity of the train.
After the smooth start of "Express Shanghai", the Shanghai Railway will provide regular service between Shanghai and Hamburg weekly and gradually expand its route coverage to other European cities Meanwhile, Cargo Services will continue to leverage our China network to furtherincrease our close cooperation with Shanghai Railway and increase the volume of railway shipments.